SONT is committed to providing high quality optical interconnection solutions, layout of the data center market in advance, launch a full series of data center optical modules, including AOC, 10G, 25G, 40G, 100G, 200G, 400G series, transmission distance up to 40km.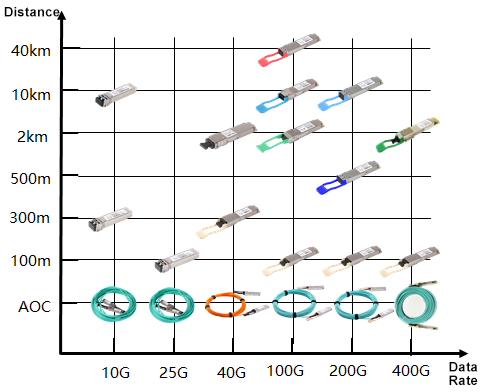 AOC Products
AOC products are suitable for short distance data center applications, the length of optical cable can be customized according to customer requirements. SONT AOC products support data rate of 10G~400G, which use 850nm VCSEL laser and PIN photodetector. Among them, 200G AOC QSFP56 and QSFP-DD products provide CDR and DSP solutions, it can meet the needs of different business. CDR solution has obvious advantages of high cost performance and low power consumption. The range of transmission through OM4 MMF is up to 100m.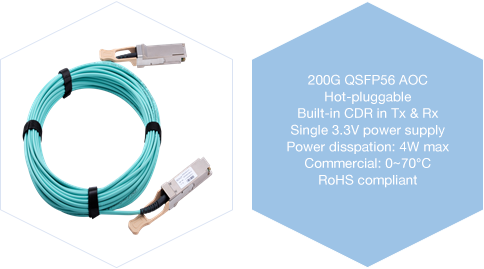 100G Products
The transmission distance of SONT data center 100G products are 100m~40km. The most shipped 100G transceiver is 100G CWDM4, which is based on single-mode Coarse Wavelength Division Multiplexing. It uses single-mode laser devices, multiplexing 4 waveband: 1271nm, 1291nm, 1311nm, 1331nm into one fiber, and each waveband transmits on 25Gb/s, the transmission distance of it is up to 2km. It has obvious advantages of high performance, low cost and low power consumption.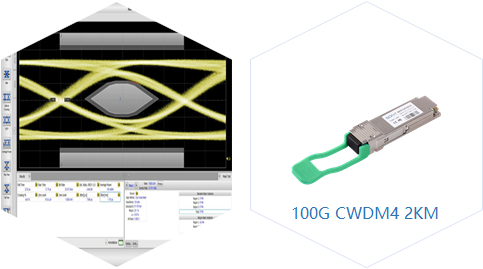 200G Products
According to the demand of customer, SONT designed QSFP56 and QSFP-DD products. The transmission distance is 200m~10km. 200GE LR4 optical transceiver is packaged with QSFP56 based on PAM4. 4×56G PAM4 DSP, 4-lane linear LD driver, linear TIA and 4 waveband LAN-WDM 56G LD and PD are integrated inside it. It compliant QSFP56 MSA and IEEE 802.3bs 200GBASE-LR4. The data rate of it is up to 212.5Gbps (PAM4), power consumption in all temperature range is the lowest in the industry, and the transmission distance is up to 10km. It is now wildly used in 200GBASE-LR4 Ethernet and 5G backhaul.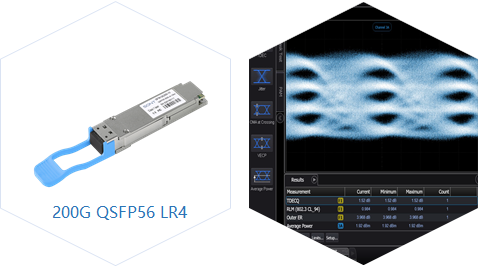 400G Products
Focus on 400G short range products, SONT has released the 400G SR8 and FR4 products. 400G QSFP-DD FR4 optical transceiver uses 4-waveband CWDM EML laser devices. The data rate of each waveband is up to 106.25Gbps based on PAM4 modulation, by multiplexing in MUX device, the data rate can be up to 425Gbps. This product is packaged by the micro-optics packaging platform developed by SONT. It is high performance, low power consumption and excellent in heat dissipation. It is designed for commercial application, suitable for 400G Ethernet, data center and Cloud Computing market.