On September 9 solstice 11, 2020, the 22nd China International Optoelectronic Expo (CIOE), the largest and most influential exhibition in China, was held in Shenzhen International Convention and Exhibition Center. The exhibition covered the whole industry chain of optoelectronic field and gathered more than 3,000 optoelectronic enterprises around the world with innovative technologies and latest products.
As a leading supplier of optical transceiver solutions in China, this year, SONT successfully held its first exhibition of 2020 CIOE with a full series of new products. The highly competitive 5G fronthaul and data center solutions of SONT have attracted the attention of many customers and peers in the industry to visit, exchange and consult.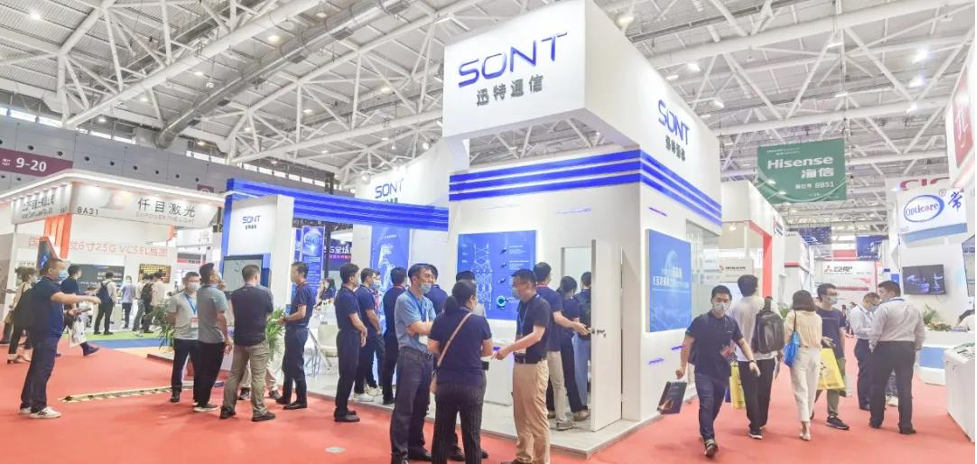 In the exhibition, SONT released the 25G MWDM optical transceiver with OAM functional. it supports the function of Pilot Tone Modulation. So, it can improve the maintenance and management of the remote optical transceiver. In addition to 5G fronthaul products, SONT also has advanced data center solutions. In the exhibition, 200G /400G series of products were displayed. These high data rate products use PAM4 modulation mode, have lower power consumption than protocol standard and good performance of fiber transmission test. . These products were regarded by industrial customers after they were launched.

The first exhibition of SONT technology has attracted a lot of attention, and the exhibition has been a great success. In the future, SONT will continue to make efforts in 5G and big data center. Striving to provide more high-quality, more complete and more diversified optical transceiver products and solutions for the industry. Contributing to the development of photoelectric industry.
Looking forward to meet again in CIOE 2021!