On March 2, Wang Yong, director of the information technology promotion department of Jiangxi Provincial Department of industry and information technology, visited Xunte communication to conduct on-the-spot investigation and understand the enterprise's resumption of work and production and enterprise planning. Sun Ding, general manager of Xunte communication, and Ying Yafei, deputy general manager, accompanied him throughout the whole process.
Director Wang and his party visited the exhibition hall and optical module production workshop of the company. General manager Sun Ding and deputy general manager Ying Yafei respectively introduced the 155m to 400g product series including 5g front light transmission modules and the product types of mainstream applications in the market; Product market scope and competitive advantage; Enterprise operation information system and automatic production and manufacturing process flow.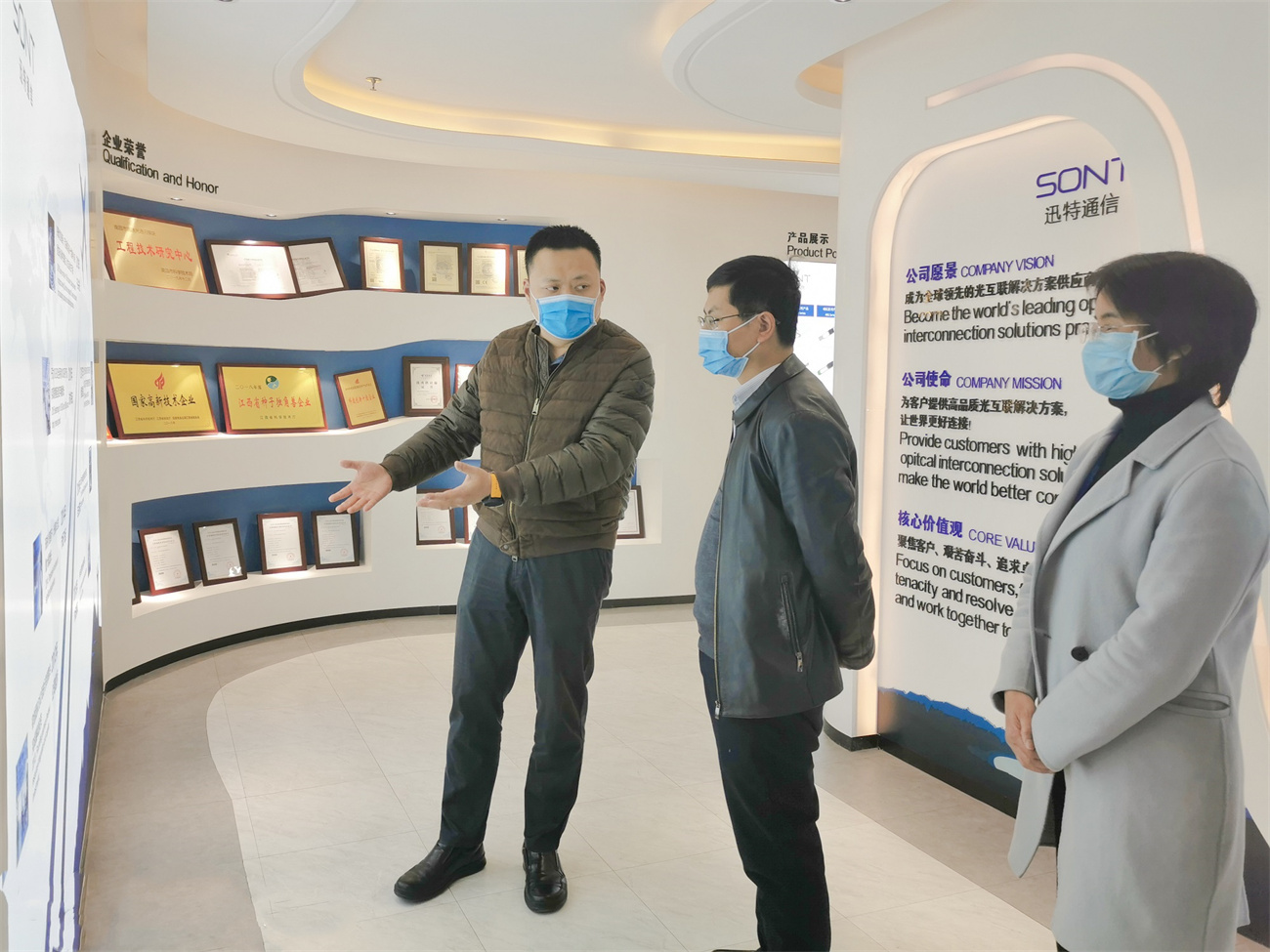 When learning of the epidemic situation, Xunte communications gave priority to ensuring the smooth delivery of products and supporting the infrastructure network construction of hospitals in Wuhan and other epidemic areas, director Wang praised Xunte communications. At the same time, director Wang also expressed concern about the current product manufacturing process. When learning that the company has realized the unification of automation and information platform through the establishment of production process data collection, manufacturing execution and other systems, and greatly improved the production efficiency and product consistency, director Wang stressed that Xunte communication itself is within the 5g industry circle. 5g industrial Internet is one of the focus industries in the future development and also the key direction. Enterprises should do a good job in the dual integration of 5g technology and production and manufacturing.
During the investigation, director Wang also put forward valuable suggestions for the company: first, continue to promote the process of enterprise cloud, and realize the development and sharing of advantageous resources; 2、 According to the measures on accelerating the development of 5g in Jiangxi Province, 5g industrial Internet enterprises have become one of the key points in the province. As an enterprise with "conditions" and "foundation", Xunte communications hopes to continue to build in the direction of 5g industrial Internet enterprises. 3、 At this stage, the enterprise has realized the intellectualization of products. It is suggested to continue to strengthen technological innovation and achieve the goal of both production line and product intellectualization.
As a national high-tech enterprise integrating the production, R & D, sales and service of optical modules, Xunte communications has rapidly grown into the largest optical module supplier in the domestic operator market in recent years. The independently developed 5g front transmission module products are more popular in the market and are widely used in 5g construction projects of major operators. Director Wang is pleased with the current achievements of Xunte. He said that it is also one of the important responsibilities of the government to optimize the development environment for enterprises, help enterprises grow healthily, and achieve further value-added efficiency.