On January 28, Chen Jinqiao, member of the Party group and assistant director of Jiangxi Provincial Department of science and technology, Xiao Yong, director of major special departments of Jiangxi Provincial Department of science and technology, Huang Duanwei, deputy director of Nanchang Bureau of science and technology, and other leaders visited Xunte communication to carry out enterprise research and guidance. Accompanied by Zheng Bo, chairman of the board of directors of the company, Ying Yafei, deputy general manager and Wei Zhijian, deputy general manager of the company, they visited the exhibition hall of the company and learned about the development history, product introduction, market distribution and scientific research of the company.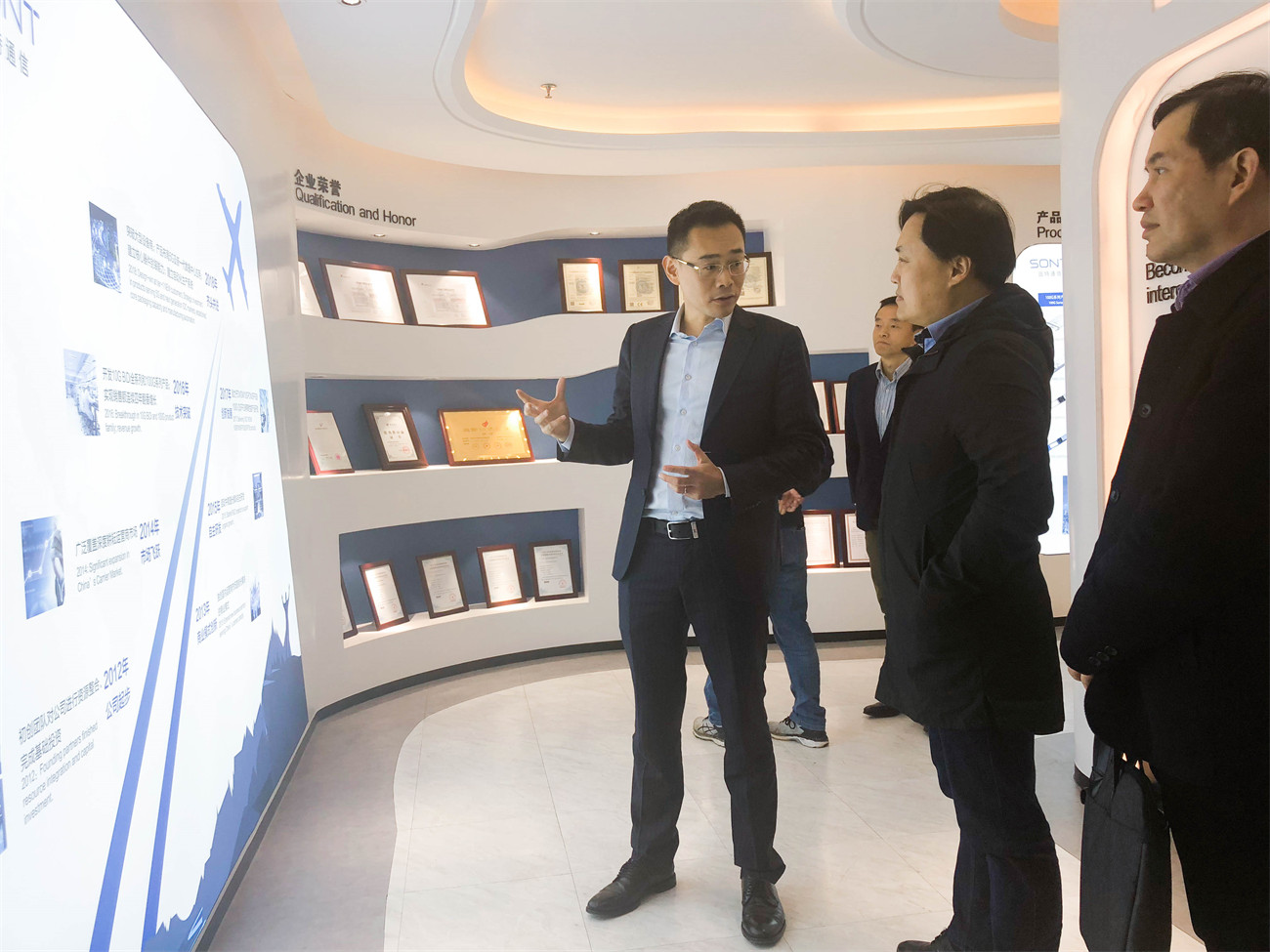 As the first company to create a new sales model in the operator market, Xunte communication is different from the traditional optical communication enterprises in the industry. It takes the lead in directly connecting with operators and other customers, accurately understanding and mastering customer needs with a keen market sense, and quickly meeting the product needs of customers in various scenarios under the background of product update iteration. At the same time, in terms of product market share, it has always maintained the first market share of domestic operators, especially the passive Wavelength Division products are at the leading level in China; And for the 5g market, we will develop and prepare a new generation of optical communication products in advance. Chen Jinqiao affirmed the leading advantages of Xunte communication in the field of optical modules.
"Science and technology is the first productive force". When hearing that Xunte communication, as the leading unit, took the lead in applying for joint research projects with Peking University, Chinese Academy of Sciences and other units, Chen Jinqiao also expressed great approval for the company's development ideas. He said that small and medium-sized enterprises should continue to deepen technical research in the vertical industry segmentation market, become "refined" and "specialized" enterprises, achieve important breakthroughs from zero to one, and become market leaders and market definers. At the same time, based on the far-reaching consideration of future development, as an important scientific and technological enterprise in the high-tech zone, he also encouraged Xunte communication to continue to bring more high-tech industrial cooperation, and effectively integrate industry, University, research and application, so as to promote the cultivation of innovation ability in the province.
From the beginning of 2012 to the current comprehensive development of domestic and overseas operators and equipment manufacturers. Xunte has always adhered to the enterprise vision of "becoming the world's leading optical interconnection solution supplier". While improving product sales, it has started to integrate the industrial chain from module to chip, and is moving forward towards the realization of the vision step by step.